Fuerte Amador, Panama
This recently developed port with its modern shopping plazas is just next door to Panama City, once a vital link along the Golden Main. Be sure to visit both old and new, and shop for duty-free bargains, including the famous molas handwoven by the Kuna Indians of San Blas.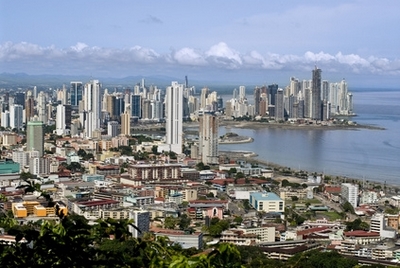 Language: Spanish, English
Currency: Panamanian Balboa (PAB), US dollar (US$)
Driving Directions and Parking Information for the Fuerte Amador, Panama
Pacific Cruise Terminal - Agjacent to Fuerte Amador Marina on Isla Flamenco
The Pacific Cruise Terminal is located 15 miles from Tocumen International Airport (PTY)
Traveling from Tocumen International Airport (PTY) - Continue to Av. Domingo Díaz. Slight right onto Calle 145 Oeste la Florida/C. La Florida. Turn right onto Calle Jose M. Torrijos/Av. José María Torrijos. Turn left onto C. Villalobos. At the roundabout, take the 1st exit onto the Corredor Nte. Ramp, keep left at the fork and merge onto Corredor Nte. Continue onto Corredor Nte./Route 6. Take the exit toward C. Martín Sosa/Av. Martín Sosa. Take the ramp onto Av. Simón Bolívar/Transístmica/Route 3. Continue onto Carr. Interamericana/Carr. Panamericana/Av. de los Mártires/Route 1/CA-1. Take Av. Amador to your destination. At the roundabout, take the 2nd exit and stay on Av. Amador.
Fuerte Amador, Panama Weather
Jan
Feb
Mar
Apr
May
Jun
Jul
Aug
Sep
Oct
Nov
Dec
High
89
90
90
89
87
86
87
86
86
85
86
87
Low
76
76
77
78
78
77
77
77
76
76
76
76
Average
83
83
84
84
83
82
82
82
81
81
81
82
Jan
Feb
Mar
Apr
May
Jun
Jul
Aug
Sep
Oct
Nov
Dec
High
32
32
32
32
31
30
31
30
30
29
30
31
Low
24
24
25
26
26
25
25
25
24
24
24
24
Average
28
28
29
29
28
28
28
28
27
27
27
28
Jan
Feb
Mar
Apr
May
Jun
Jul
Aug
Sep
Oct
Nov
Dec
Days
24
13
10
18
26
22
22
23
24
26
26
28